Campaign Background
Between 2021-2022, SWC Partnership supported Wallonia in delivering their breakthrough BrexIt Fix-It campaign which promoted the commercial advantages of the southern region of Belgium to British companies, following challenges caused by Brexit.
Building on the success of the past campaign, SWC is proud to announce the launch of Wallonia-Belgium's largest campaign to date. The campaign builds on the existing equity with evolved branding, and real-time messaging that resonates with business owners and CEOs through an impactful, innovative & disruptive campaign!
SWC were able to showcase its strategic, creative and media planning strengths and identified a number of channels that would work together to offer a robust mix of media across the year. For instance, it is the first time Wallonia-Belgium have been on addressable TV in the UK and national radio stations such as LBC News.  
Creative Director, Tim Goulding adds "Learning from previous campaigns, we were able to develop creative messaging to be even more relevant & engaging, that cuts through the sea of sameness whilst keeping to the bold yellow & red design honouring Wallonia's regional colours."
Fan favourite campaign headlines were reworked to ensure relevancy given the current economic & social themes in the UK, that would grab the attention of those in the logistics and life sciences industries:
Cost of living crisis
Strike action
Rising costs
Rising corporation tax 
The 12+ month integrated campaign is a carefully planned combination of media channels that focus on brand building and lead generation.  This is a little more about the media channel strategy and why we opted for them.
TV Ad
Addressable TV is the ability to show different ads to different households and audiences while they are watching professionally produced TV content on the TV screen across on-demand, live streamed and linear viewing environments.
Radio
Leveraging media relationships, SWC worked with friends at Global Media to develop an impactful radio ad on LBC.
LBC is Britain's biggest commercial news talk brand. Broadcasting nationally, LBC tackles major stories and the issues that matter, providing a platform for debate and thought leadership. Presenters include Nick Ferrari at breakfast, James O'Brien, Shelagh Fogarty, Eddie Mair, Iain Dale and David Lammy.
Keep your ears ready for the radio ad, which goes live later this October, or take a listen here.
National News Papers
Based on past campaigns, The Times & The Sunday Times newspapers evidently performed the best out of all ATL activities and so SWC decided to repeat this activity with half-pages to increase the amount of brand impact and update the campaign message in the second half of the year to ensure it is relevant to the news at the time.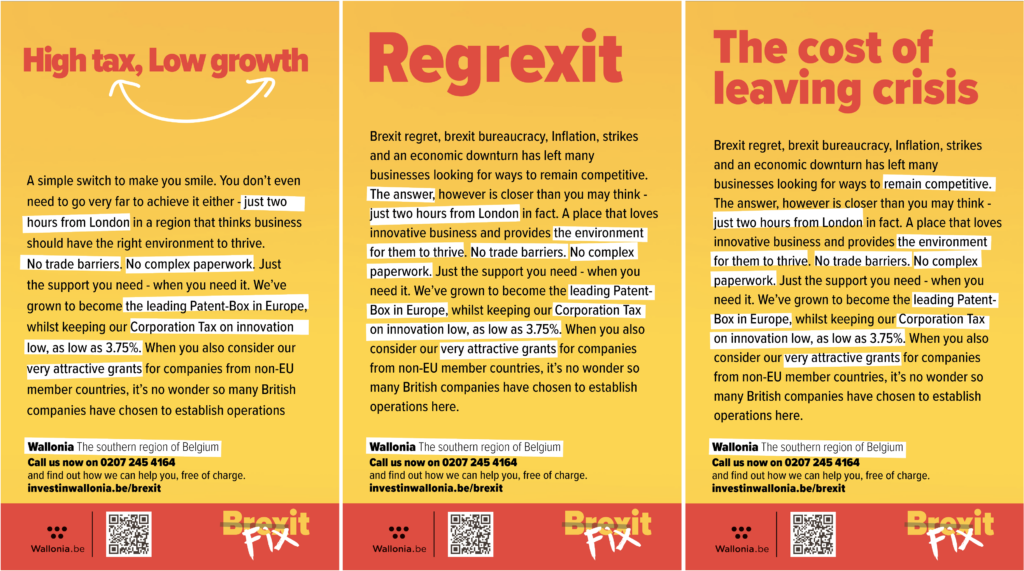 LinkedIn Advertising & Personalised 1-2-1 Outreaching
Targeted ads across LinkedIn will be live during the campaign period across a variety of formats and promoted bespoke messaging to the audience. This activity is also supported by a personalised LinkedIn Outreach programme starting conversations and appointment setting with key decision makers.
All of this has been coupled with vigour reporting, IP lead tracking technology, and providing data insights to allow for the campaign to continually evolve.
If you like what you've read and need help with Place Branding or B2B marketing agency, then reach out to our Managing Director to discuss your brief.