The UK leaving the EU has caused major trade disruption, increased costs, the introduction of new complex paperwork, all resulting in big delays.  
The Wallonia Export-Investment Agency represents the southern region of Belgium. As such, Brexit for them means a big opportunity to attract British companies to register subsidiaries in the country and take advantage of the many assets and benefits the Wallonia region exclusively offers to foreign companies, as well as giving the opportunity to re-open the door to free trade with other EU member countries. Plus they offer free confidential advice to companies looking to invest in the region – perfect for businesses looking to navigate their way through a sticky Brexit situation.  
The Investment Agency appointed SWC Partnership to help build awareness of the competitive advantages the region has over neighbouring countries and drive enquiries among British companies to consider making it their second (or even new) home.  
The campaign consists of a 12-week ATL campaign in The Times newspaper, featuring print adverts which will also be promoted within the Times tablet edition. Additionally, a digital native article will be hosted at thetimes.com offering further information on investing in the region. The newspaper activity will also be supported by a national LinkedIn advertising campaign.  
The creative consists of a series of 3 ads each targeting a specific industry audience, promoting the benefits, opportunities, and incentives available to them.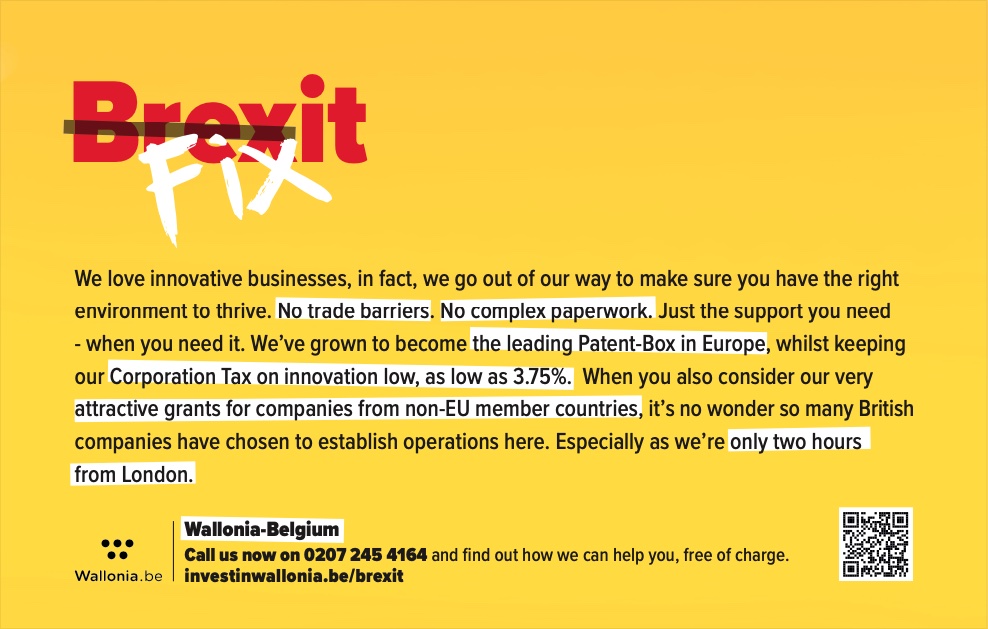 Founding partner of SWC Partnership, Simon Cristal said: "Wallonia-Belgium know they are competing for the likes of Germany and Netherlands, which is why from the very beginning we were briefed to create something which immediately stands out – and that isn't expected from a government organisation. As they say, it's not the size of the dog in the fight, it's the size of the fight in the dog.  
We needed to showcase a campaign that would immediately hit a nerve with frustrated key business decision-makers and be aggressive enough to cut through the sea of sameness, whilst also promoting the region's key USPs. The media has also been very carefully chosen and the collaboration between everyone involved has been truly amazing."