Wallonia-Belgium Target UK Companies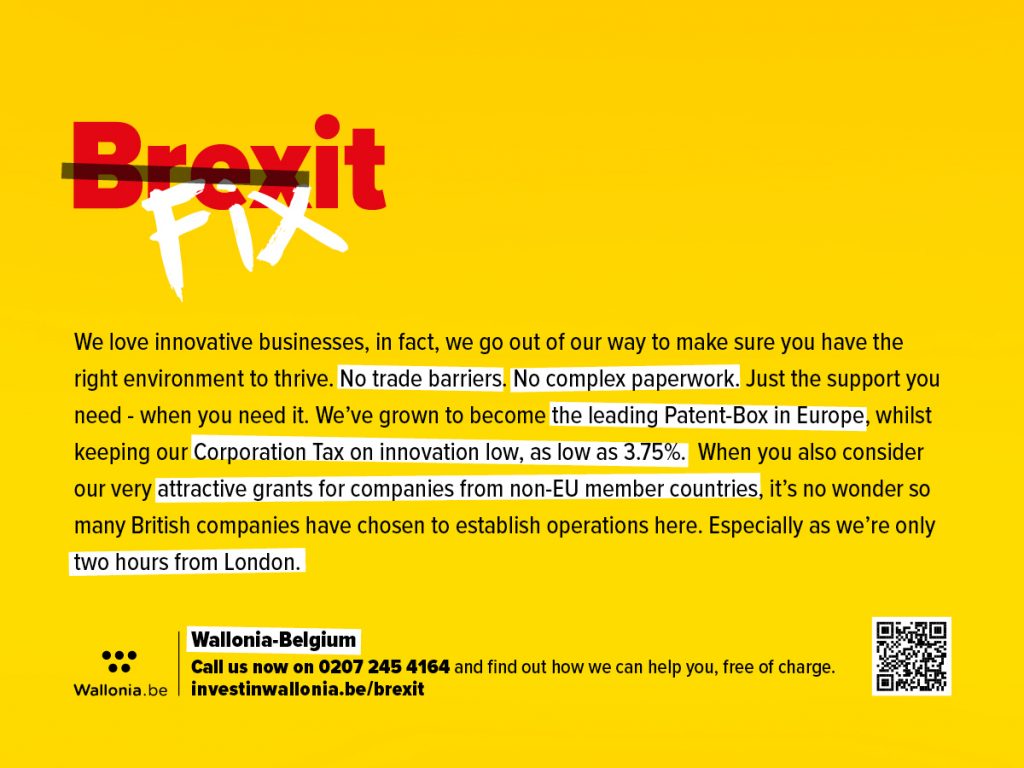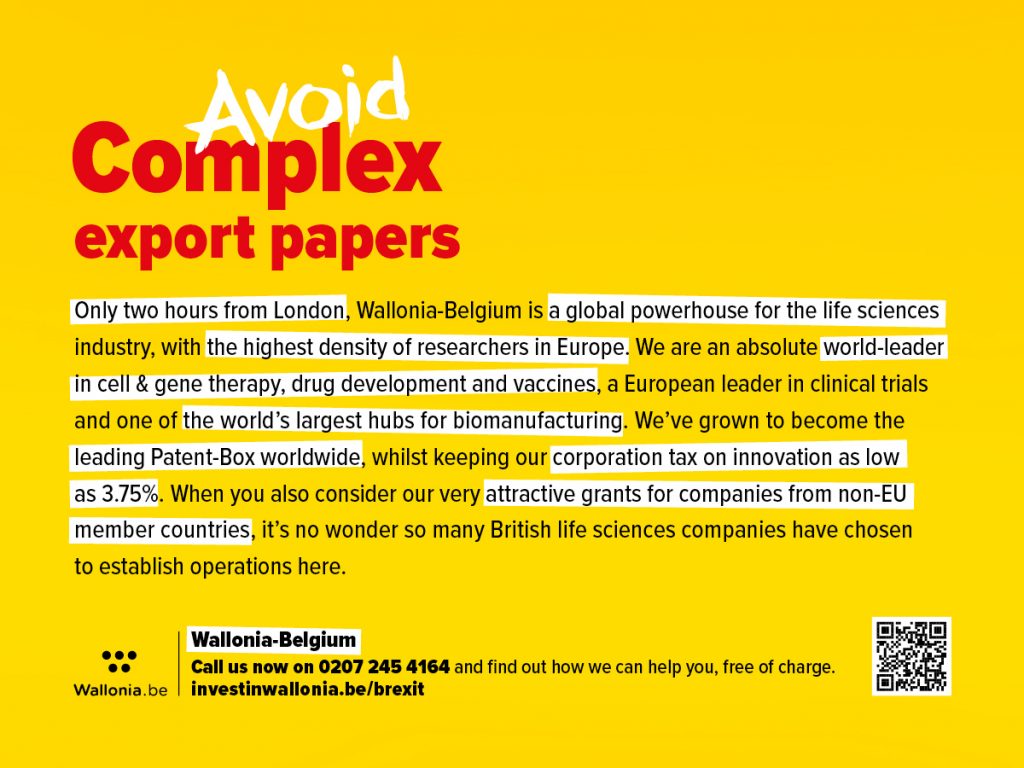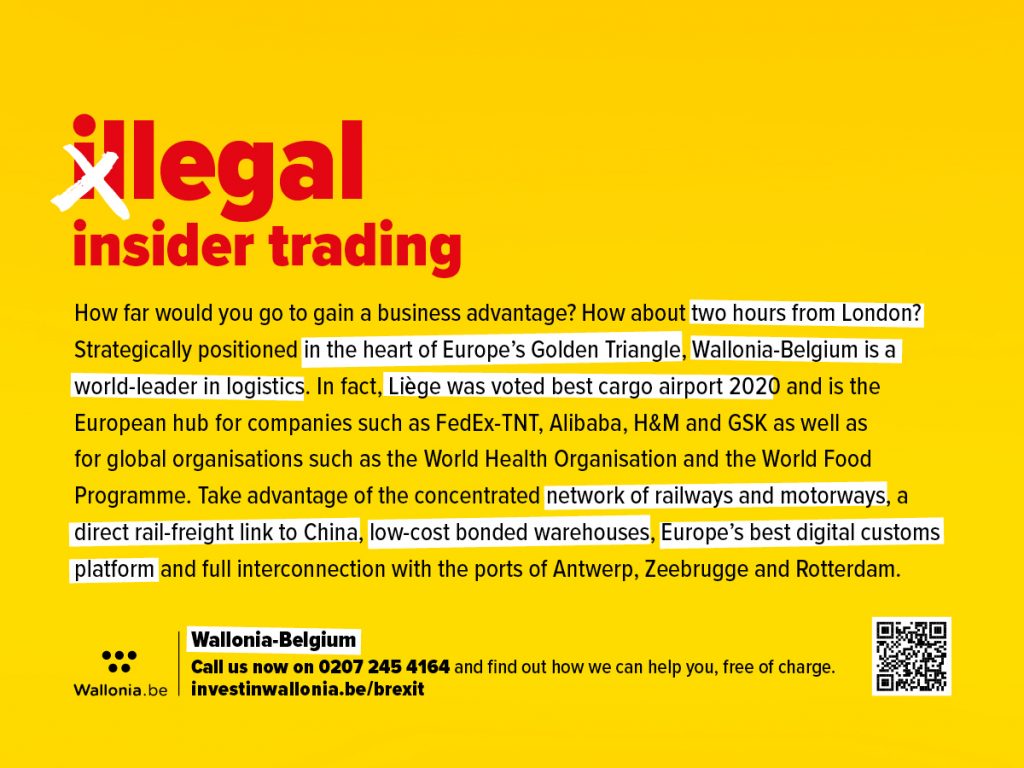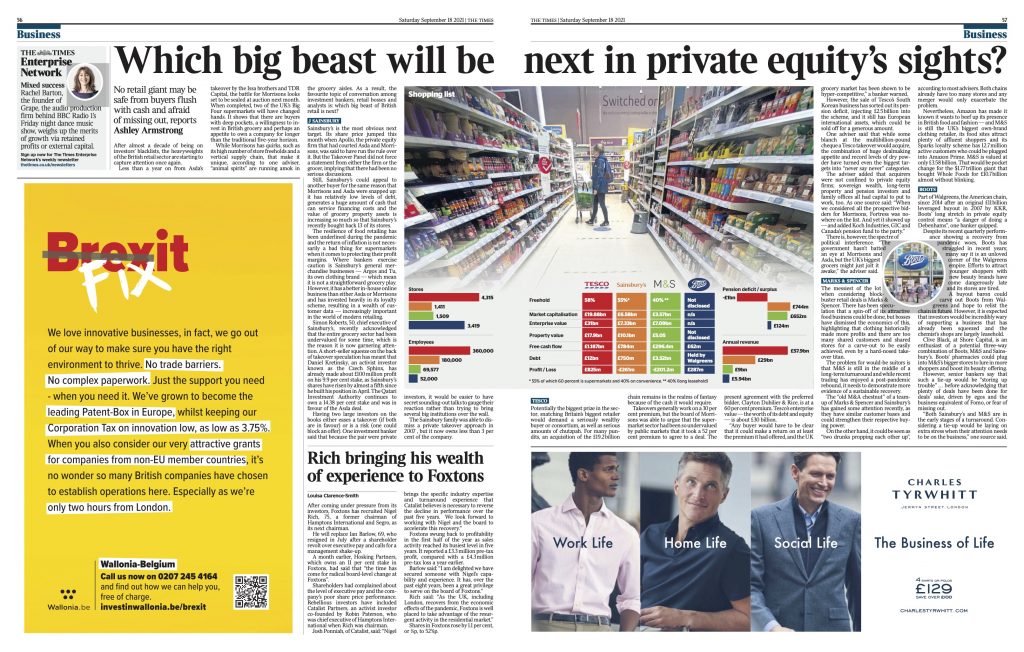 Abstract:
The United Kingdom leaving the European Union has caused major trade disruption between both the UK and EU member states. The Belgium Trade Office (part of the Belgium Embassy) spotted this as an opportunity to promote the competitive advantages of the region to British companies and attract them to setup a subsidiary or relocate their businesses entirely.
SWC were briefed to develop a creatively aggressive campaign targeting company directors and key decision makers, tell them the benefits of the Wallonia region and enquire to find out more. 
SWC was appointed to deliver an end to end solution, including media planning and buying, creative concepting, production and reporting.
Challenges:
Belgium is perceived as an underdog vs. top-considered countries Germany, France & Netherlands. 
The Wallonia region has very low awareness both geographically and commercially
Opportunity to tell people the competitive USPs of the region and major advantages to key industries:
No trade barriers and located in the centre of Europe
2 hours from London and a world-leader in logistics
Leading patent box to protect intellectual property
Government grants & low corporations tax
A powerhouse for life sciences and pharmaceuticals
European hub for major companies such as FedEx-TNT, Alibaba and GSK
Among many more… 
Solution:
Cut through the sea of sameness which is often associated with government campaigns being uncreative, so that Wallonia-Belgium stands out as much as possible. Highlight the issues that the audience has right now and demonstrate why the region is the solution.
The process started by reviewing the audience and their media consumption to produce a media plan that would hit maximize the number of people who would see the campaign. This was settled on a 3-month advertising campaign in The Times newspaper and online/tablet editions, including a native article working with The Times editorial team as well as underpinned by a LinkedIn advertising campaign to increase the reach and retarget the audience. The creative directed the audience to a landing page to register inquiries and track campaign performance. 
Impact:
The impact of the campaign made a big impression among its audience and resonated very highly with very pertinent challenges they faced on a daily basis. The creative and design direction purposely addressed the problems head-on and was commemorated for its direct approach. The creative standout was achieved through utilising Belgium's vibrant national colours and a combination of script and bold typography. 
Client Testimonial: 
Patricia Weyts Direct Foreign Investment Deputy – "I would highly recommend working with the SWC Partnership team for your international and national marketing/advertising campaigns. They provide excellent service and are always very clear in their communications. It is very rare to find a good agency that can offer end to end management for creative development and media planning, but SWC certainly overdeliver and we are very proud of the work we produce together!"
Our Services

Are you a brand frustrated
because you want to grow your
sales and awareness?
Learn more

Do you need an international
marketing team to facilitate your
UK, European or North American marketing?
Learn more