Eurowings - Brexit Tactical Advertisement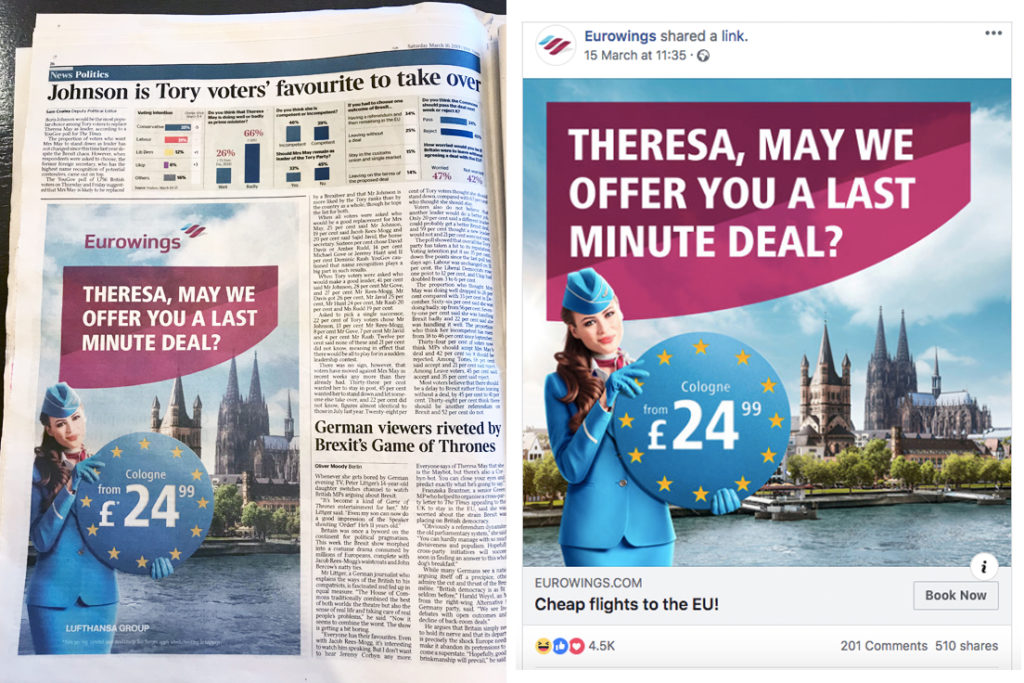 Description
Following Theresa May's Brexit deal being rejected, The House of Commons voted against a second referendum, followed by the Government requesting the EU to delay Brexit. With EU politics being such a hot topic, SWC Partnership thought it would be a perfect opportunity for Eurowings to offer (what might be) a more convincing deal.
Challenges
Founding Partner Simon Cristal added: "Being able to implement a campaign like this in a matter of hours is a true reflection of our agile processes and the proactive team at SWC. Real-time marketing resonates very well with consumers and generates coverage for brands by out shining their competition, not outspending them."
Solutions
The tongue-in-cheek ad went live on Friday the 15th of March, across social media and was published in key European newspapers.
Impact
Millions of impressions achieved, reshares & engagement.
Details
Client

Eurowings

Audience

B2C

Location

Tunbridge Wells

Geographic scope

UK & International

Industry

Travel & Leisure
Our Services

Are you a brand frustrated
because you want to grow your
sales and awareness?
Learn more

Do you need an international
marketing team to facilitate your
UK, European or North American marketing?
Learn more