Eurowings Airlines
Integrated Case Study: Transcreation & Local Market Experts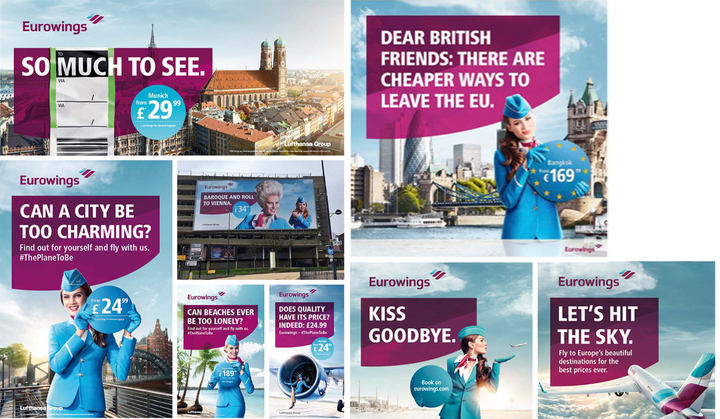 Description
Eurowings (part of the Lufthansa Group) appointed SWC Partnership as its first marketing agency outside Germany. The low-cost carrier is Europe's fastest growing airline and partnered with SWC to form a UK hub to manage their international comms, including localisation and transcreation, for both B2C and B2B campaigns.
Challenges
Taking a German based company to a UK market.
Redefining a TOV which would resonate with a UK & international English speaking audience. 
Gaining cut through in a very busy marketplace, against the likes of easyjet and Ryanair.
Solutions
An integrated team, fully immersed in the clients business, dedicated to facilitating international marketing across a range of services. Able to respond quickly to tactical opportunities.
Impact
Successfully launched Eurowings in the UK. 
Increased brand awareness & bookings. 
Became Europe's fastest growing airline. 
Details
Client

Eurowings

Audience

B2C & B2B

Location

London & Tunbridge Wells

Geographic scope

Uk & International

Industry

Travel & Leisure