Millennials & young professionals at the heart of brand targeting.
The viewers of these particular programmes tend to fall into the age bracket of late teens to late twenties, usually making them either millennials or young professionals. Without the worry and cost of families or other commitments, this demographic has money to spend on what they want, and more and more that seems to be ways to help them look good or how they think society expects they should look. This could go some way to explaining why there has been a huge influx in the number of protein products entering the market. Walk into most Supermarkets and you could find an aisle stocked with products from Sci-MX, MaxiNutrition, Maximuscle and PhD among others. A few years ago, you'd have had to go to more specialist retailers to find these products.
In today's society, reality shows or 'Reality and Constructed Factual' shows as described by BAFTA, are ten-a-penny. Switch on to MTV post 9pm and you might be able to catch an episode of Geordie Shore, flick over to ITVBe and you should see re-runs of TOWIE, or switch on to E4 on a Monday night and you'll be watching the latest episode of Made In Chelsea. While half the cast consist of glamorous women, the other half are predominantly made up of sculpted 20-something LADS, LADS, LADS with fine physiques and an IQ a fraction of the amount they bench press. But why do they dominate TV listings? The answer is simple. There is an almost unexplainable demand for them from large sections of society.
These "celebrities" of the modern era and I use the term loosely, are what a fair chunk of society nowadays aspire towards; making them and what they represent a brand's dream. Surely it can be no coincidence that in a time when particularly men on these highly viewed shows are sporting large muscles in the abdominal, pectoral and bicep region, that the average protein intake is up 2.2%, with Brits now consuming an average of 25.1kg of protein a year.
This trend has made brands think about the way they are marketed, and more specifically what parts of their product are communicated to consumers through packaging and advertising. This is primarily found in FMCGs with some brands even developing new products to appeal to these health and appearance-conscious millennials and young professionals. Just last year, Warburtons introduced a high protein range to shop shelves, while school lunch-box favourite Peperami now promote they are a high-protein snack.
The market for snacks high in protein in particular is booming. For many millennials and young professionals, they have little time in their working day to sit down and enjoy a good breakfast or lunch. Sustenance needs to be had either on the go, or with a max time limit of 5 minutes; hence the array of protein and breakfast bars packed with oats and nuts. SWC Partnership organised collaboration between easyGym and The Collective Dairy, in which The Collective's Pro-Yo Protein Yoghurts were distributed for free within easyGyms across London. The activation and protein yoghurts were incredibly popular, largely attributable to the fact they could be consumed on the go after people left the gym heading for the next destination, and gave people the vital dose of protein we know gym-lovers crave.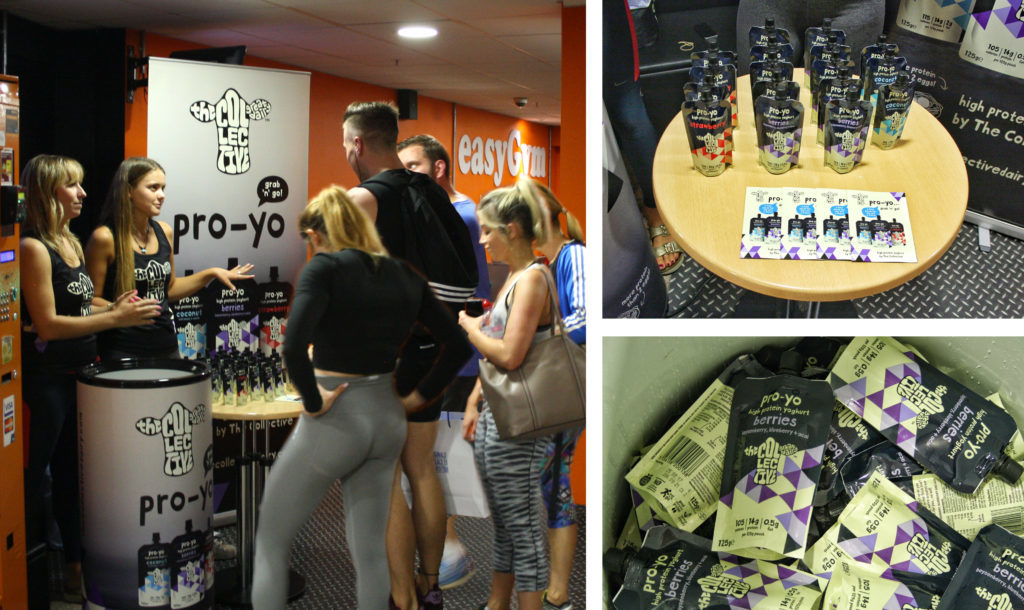 While the demand for these products is heavily tangible with the attitudes of society, the good news for brands is that the health-conscious lifestyle of millennials and young professionals shows no sign of slowing down; nor does the demand for reality shows. Unsurprisingly, the reality stars are likely to benefit most from this. It should earn them a few more thousand followers on Twitter and Instagram, and consequently a few more thousand in their bank balance as brands look to implement them as influencers within integrated marketing campaigns.
For further insights on the use of influencers within integrated marketing campaigns and how to target the millennial generation, contact SWC Partnership, Full Service Marketing Agency here.