What's the beauty of public events? They inevitably garner and generate some, if not lots of, media and public attention; and for a brand working on an outreach strategy, that's half the job done for you if you can jump on it in some way, right?
This is exactly what SWC Partnership did on behalf of their client, easyGym, in order to promote the gym's no joining fee and the launch of the gym's 'Set to Sweat' campaign, while also supporting International Women's Day.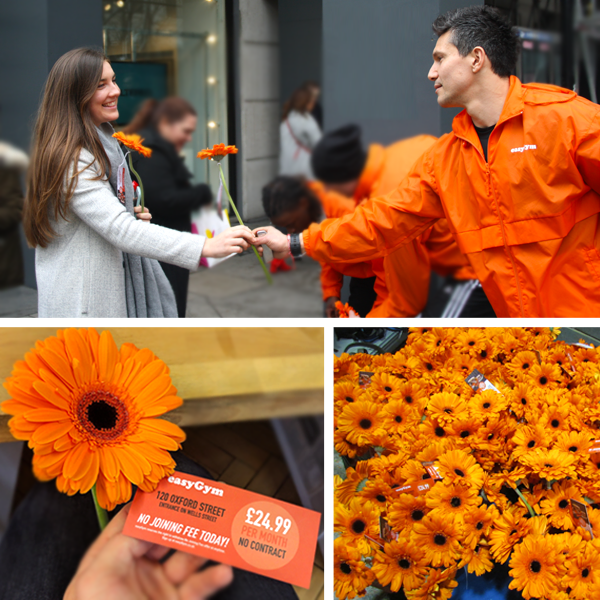 On March 8th 2017, commonly recognised as International Women's Day, staff from easyGym's Oxford Street club took to Oxford Street to dispense hundreds of large Orange Gerbera flowers to women walking by. And, as a company always alert to promotional opportunities, attached to each flower was a tag endorsing the gym's 'Set to Sweat' campaign and no joining fee. The results? Thousands of downloads of the 'Set to Sweat' programme, and hundreds of smiling faces on the day. Brand ambassadors also having direct engagement with potential members helps build awareness of the club in the catchment area and also shapes brand emotion.
A similar campaign was launched by MBNA who used Valentine's Day as the premise for brand outreach. However, they failed to take full advantage of the potential marketing value of such an event. Where MBNA simply put their name to the handing out of flowers, easyGym focused on a specific campaign with a call to action; 'Set to Sweat' was targeted primarily at women, which coincided perfectly with International Women's Day. Parity between the event and what is being promoted is necessary.
Additionally, as well as the potential rewards that can be capitalised on from promotion, supporting and being seen as a supporter of a positively impactful cause all contributes to improving upon an already strong and positive brand image.
Aside from these outreach strategies highlighting that everyone loves a free flower, they also demonstrate that people warmly receive companies supporting good causes. In fact, although some people were aware of the marketing objectives behind the flowers, they were still happy to share photos of their flowers and attached tag on social media, generating some additional earned promotional reach for the brand.
If you think your brand could benefit from some expertise on making the most of public events, get in touch here.